Toronto Just Added a Bunch of New Neighbourhoods
3/20/2021 | SHARE
Posted in Toronto Living by Stephen Gale | Back to Main Blog Page
Perhaps it's long overdue, but Toronto's neighbourhoods are getting a much-needed revamp and changing from the existing number of 140 to 158.
The changes are a reflection of the city's vastly growing population, which, until now, hasn't been properly balanced in Toronto's current neighbourhood system.
The City says Toronto's existing 140 social planning neighbourhoods have been in existence since the late 1990s. However, in recent years population growth has made each neighbourhood's population unbalanced in relation to the others.
To better balance the population throughout Toronto, the City has developed neighbourhood splits that resulted in 34 new areas with more balanced populations. To achieve this, the City plans to retire 16 old neighbourhoods and replace them with the 34 new ones, while the rest will stay the same.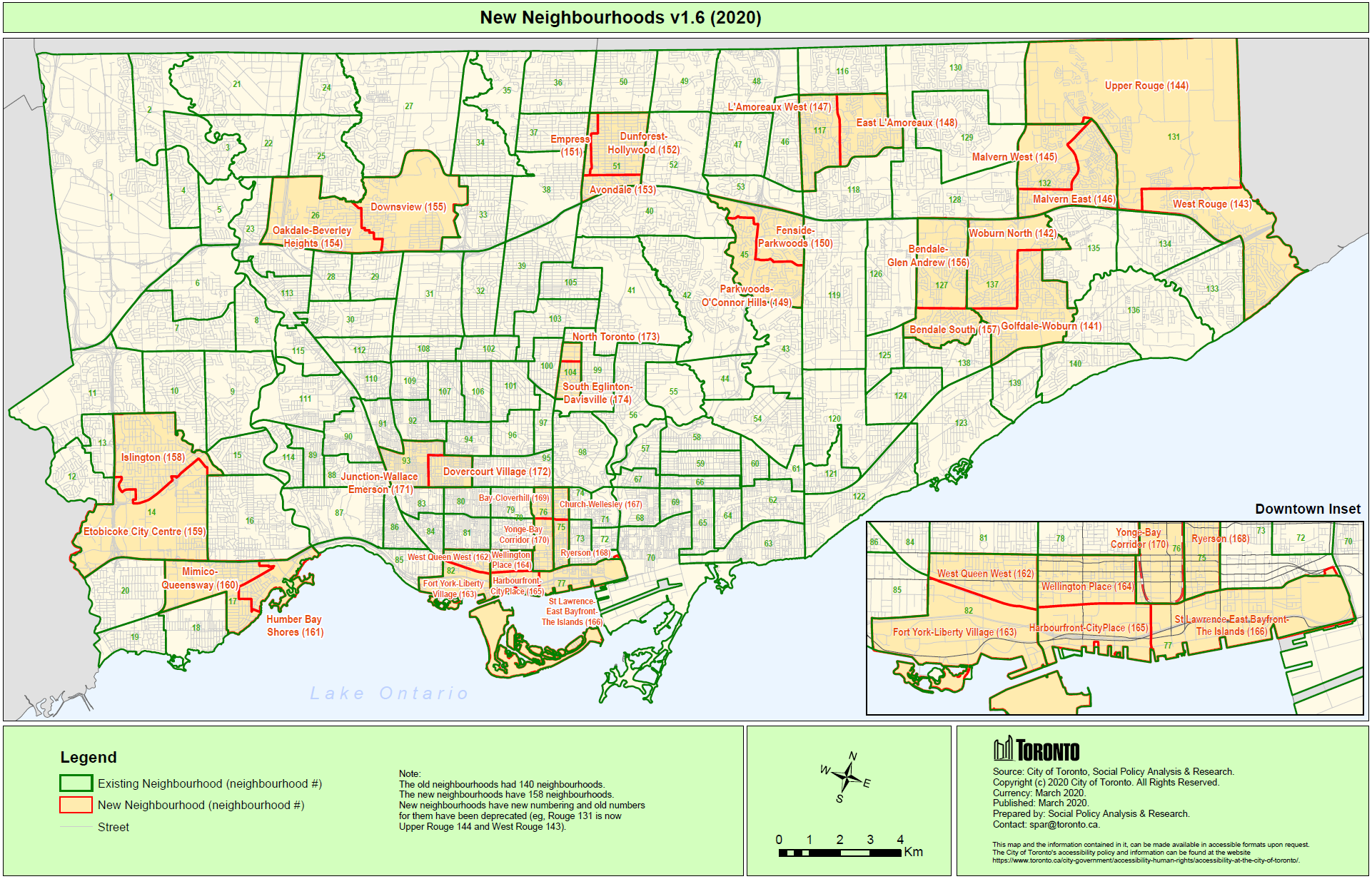 According to the City, the new neighbourhood map includes retiring old neighbourhood numbers (like 131 and 137) and new numbers start at 141 and go up to 174 — so now there will be 158 neighbourhoods numbered somewhere from 1 to 174.
The City said the outer boundaries of neighbourhoods will stay the same; only internal lines are made for new neighbourhoods. This allows old neighbourhoods to be compared to new neighbourhoods.
Two Neighbourhood Improvement Areas (NIAs) have been split: Woburn 137 (now Woburn North 142 and Golfdale-Woburn) and Downsview-Roding-CFB (now called Downsview and Oakdale-Beverley Heights).
One of the most significant changes is that the old neighbourhoods of "Waterfront Communities — The Island and Niagara", which are all very densely populated, have been split into three smaller geographic areas: Harbourfront-CityPlace, St. Lawrence-East Bayfront-The Islands, and Wellington Place.
Meanwhile, the current "Niagara" neighbourhood will be broken down into West Queen West and Fort York-Liberty Village.
Further north on the map, the current neighbourhood of Willowdale East will be broken down into three new neighbourhoods — Empress, Avondale, and Dunforest-Hollywood.
Full list of Toronto's new neighbourhoods:
Fort York — Liberty Village
West Queen West
Wellington Place
Harbourfront-City Place
Yonge-Bay Corridor
Ryerson
St Lawrence — East Bayfront — The Islands
Church-Wellesley
Bay — Cloverhill
Dovercourt Village
Junction — Wallace Emerson
South Eglinton-Davisville
North Toronto
Bendale South
Golfdale — Woburn
Bendale — Glen Andrew
Woburn North
West Rouge
Upper Rouge
Malvern East
Malvern West
East L'Amoreaux
L'Amoreaux West
Dunforest — Hollywood
Avondale
Empress
Fenside-Parkwoods
Parkwoods — O'Connor Hills
Downsview
Oakdale — Beverly Heights
Islington
Etobicoke City Centre
Mimico — Queensway
Humber Bay Shores
The City says the neighbourhood splits follow Statistics Canada's census tract geography for maximum compatibility with existing datasets.
The jump in population, according to the most recent Census data in 2016, shows Toronto's population had increased by 116,511 residents in the five-year period since the last Census in 2011. The next Census survey is scheduled for May 11.
While the City says the full 158 neighbourhoods will be publicly announced in early 2021, no definite date has been announced at this time.
Source: Storeys
Toronto Housing, Toronto Living
Thinking of buying or selling a property, or have a question regarding the real estate market? Fill out the form below and I'll get back to you promptly.